>> Apr 16, 2010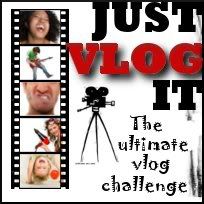 A HUGE thank you to all those that submitted videos and voted for their favourites.
The poll is now closed, the results have been counted and we have A WINNER!
Will it be Pippa form Mothers Ramblings with her
make us....
vlog?
Or Heather from Young and Younger showing us how to make
Bath Fizzies
?
We had 50 votes, and a rather close race to the finish, but our April's Just Vlog It champion and winner of a £50 Pamper Hamper is...
This is Heather's 2nd win in a row ladies and gentleman, the woman to beat when it comes to vlogs!
CONGRATULATIONS Heather. Well deserved!
Ladies, your badges are below. Heather please step up and collect your winners badge, and Pippa and Victoria please take your runners up badges. It really was a close vote, the leader changed several times and I think you all deserve a massive round of applause.
Thank you all for joining in.
And don't forget, you can find all entries to April's
Just Vlog It
over at
Café Bébé
on Monday! Stay tuned to
Café Bébé
the same time next month for more Just Vlog It challenges and exciting prizes and the chance to knock
Heather from Young and Younger
off her champion perch, so to speak!
Thank you to this months sponsors:


Watch a vlog by Karin at Café Bébé about MUK LUKS to learn more about them

A Myroo Skincare Package courtesy of the lovely Rachael who also runs Milly and Flossy a lovely baby skincare range. This skincare package from Myroo contains:





Geranium Hand treat, a luxurious intensive hand cream to sooth and nourish dry skin and some cotton gloves for using it as an over night rescue treatment.

Plus nail files, orange sticks and a bamboo flannel.

And what pampering package would be complete without a good book to read as you soak in your floral bath fizz or curl up on the sofa in your MUK LUKS?



The Recipe Club, by Andrea Israel and Nancy Garfinkel, is the perfect book for just that. A story of a friendship over the years full of intimate letters between two friends through the good and the bad, each one accompanied by a recipe. The book follows them as they grow up, grow apart and find each other again.

A damn good read that I have just finished myself and then convinced the lovely people at HarperCollins to send the winner a copy too.