>> Apr 15, 2010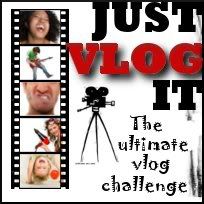 This months
Just Vlog It
challenge was Make Us Something. It could have been something crafty or foody, or it could have been make us laugh, cry or want to beat you about the head with the soggy end of your own severed arm. It was completely open to interpretation.
Thank you to everyone who entered.
All videos have been watched.
The deliberating and arguing by Karin from
Café Bébé
and myself over the top two is over.
We are finally ready to announce the top
Just Vlog It
entries for you to vote on.
Who will win our pamper hamper worth over £50?
That is for you to decide, my dear friends, in this public voting round of April's
Just Vlog It
And so I give you, our top three.
Yes I said three.
Yes, I know it¨s supposed to be only two.
But despite all our battling and arguing, we just couldn't come to a decision. So three is what we have. In no particular order:
Please go and watch these three wonderful vlogs and then come back here and vote for the one you think deserves to win Aprils Just Vlog It challenge of, make us something. Voting is open for 24 hours, and will close at 8am (GMT) tomorrow (Friday 16th April) and the winner announced later the same day.
All entries, and there were some fabulous ones this month, from making the perfect cup of tea to making us smile, will be linked to in the fabulous vlogging carnival held at
Café Bébé
on Monday.
Thank you very much to all those who entered. We really appreciate you taking the time to make such great videos for us to watch, choosing the top vlogs was a really difficult decision this month. If you didn't make it this month, don't forget, we will be hosting another
Just Vlog It
challenge next month, we are coming up with theme ideas and lining up sponsors as we speak, so do come back here and over to
Café Bébé
for plenty more vlogging inspiration.
A special thanks goes to our wonderful sponsors this month for their prizes:


Watch a vlog by Karin at Café Bébé about MUK LUKS to learn more about them

A Myroo Skincare Package courtesy of the lovely Rachael who also runs Milly and Flossy a lovely baby skincare range. This skincare package from Myroo contains:





Geranium Hand treat, a luxurious intensive hand cream to sooth and nourish dry skin and some cotton gloves for using it as an over night rescue treatment.

Plus nail files, orange sticks and a bamboo flannel.

And what pampering package would be complete without a good book to read as you soak in your floral bath fizz or curl up on the sofa in your MUK LUKS?



The Recipe Club, by Andrea Israel and Nancy Garfinkel, is the perfect book for just that. A story of a friendship over the years full of intimate letters between two friends through the good and the bad, each one accompanied by a recipe. The book follows them as they grow up, grow apart and find each other again.

A damn good read that I have just finished myself and then convinced the lovely people at HarperCollins to send the winner a copy too.